BEST EXPERIENCE IN TOWN FOR FUN WITH FAMILY AND FRIENDS!
We hope that everyone is staying healthy and making the very best of your family time together.
Like most businesses, Gaming To You is temporarily closed and will remain so until our government and health officials deem it is safe to open. We have been rescheduling current parties into the future and taking reservations for future dates. We never have penalties for date changes so if you have an upcoming event you want to pencil in, give us a call at 719-551-7978.
We have a great opportunity for creative minds! Email us your ideas for a layout for our laser tag/nerf battle floor and if your idea is selected for use you could win a party and your design will be featured on our main floor.
It can be as simple as pen & paper or more elaborate if you desire. Dimensions = 24×90 and we have 2 connecting play areas of that size. All entries will receive either Freddy's Custard ice cream or a 30 min play card.
Gaming To You
– A Premium Entertainment Experience: GAMING TO YOU inside the Chapel Hills Mall is Colorado Springs' most epic place for active entertainment! We offer Laser Tag, Dart Wars, a Console Gaming Center and much more!
Whether you join us for hourly play, a birthday party or a team-building event you are sure to have a blast! Not able to come to us? Gaming To You is also Colorado's ultimate mobile gaming service, providing video gaming, laser tag, dart wars, Knockerball and movie nights.
Inside Chapel Hills Mall across from Dick's Sporting Goods – Open 10am-9pm Mon-Sat and 11-6 Sun
Gaming To You in the mall
– we have 23,000 square feet of space where you can play LASER TAG, DART WARS, VIDEO GAMES and MORE! For DART WARS you can bring your own weapon or use one of ours. For LASER TAG we have two different taggers, depending on the age of the players. None of our laser tag equipment requires heavy vests or headgear. In our GAMING CENTER we've got the greatest game titles on the best gaming consoles, from Xbox One, Xbox 360, Playstation 4, Wii and Wii U!
We Do Mobile Parties Also!

Gaming To You also offers mobile party services to the Colorado Springs area as well as Castle Rock, Denver and Pueblo. Whether you choose to join us at Chapel Hills or want us to come to you, we can customize your party/event to meet your individual needs and strive to make each visit as much fun as possible!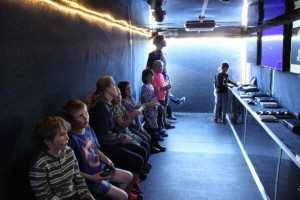 Our video game truck has five HUGE screens inside, up to 20 can play at one time! We've got the greatest game titles on the best gaming consoles, from Xbox One, Xbox 360, Playstation 4, Wii and Wii U! Fully climate-controlled and self-powered, our luxurious limo-like video game truck is ready to bring the ultimate party to you!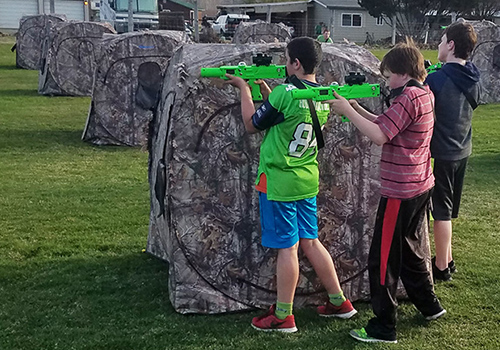 The best laser tag party
in Greater Colorado Springs comes right to you! Imagine how your guests' faces will light up when they see the laser tag course and awesome laser taggers! We set up the complete course at the location you pick out. Your birthday boy or girl will be the envy of all their friends!
We can set up outdoors at a park, school, or your yard or indoors at your school, events center, church, and more!